Selecting the right metal cutting bandsaw for efficient, cost-effective productivity is an important choice for commercial fabricators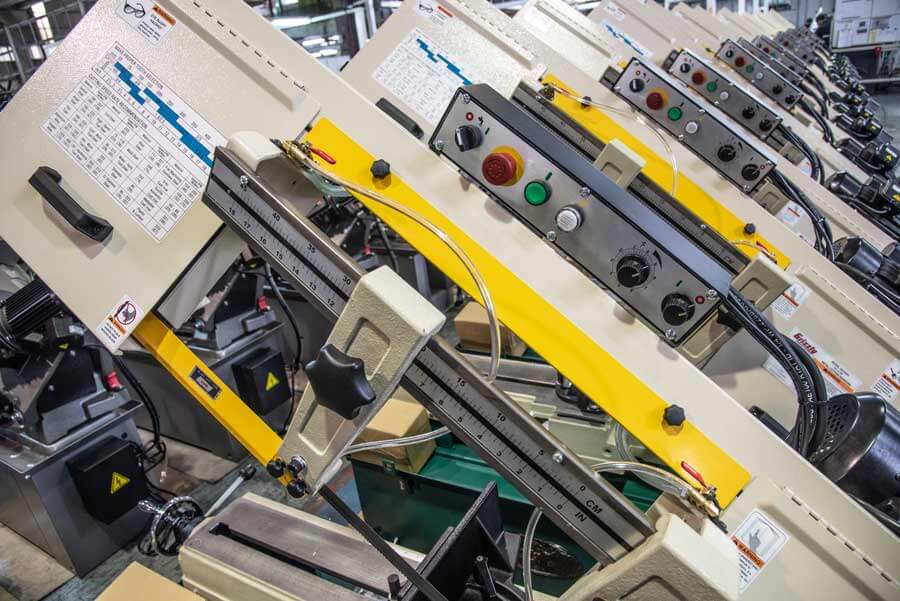 Why are metal cutting bandsaws so important for fabricators?
There are several options for cutting metal, but metal cutting bandsaws offer the greatest flexibility for cutting all types of materials across a wide range of sizes and at almost any cutting angle. Metal cutting bandsaws are essential equipment for any fabricator working in metal.
Metal cutting is an essential part of the fabrication process because almost every product manufacturing cycle starts with cutting stock to the correct dimensions. Some fabricators even specialize in providing sawing services for other manufacturers, using metal cutting bandsaws to achieve very precise cuts.
All fabricators need to consider how to improve metal cutting productivity, and choosing the right metal cutting bandsaw for your business can save you considerable time and money compared to slower, more wasteful and less versatile cutting options.
What are the three different types of metal cutting bandsaws used by fabricators?
There are three types of metal cutting bandsaw that are commonly used by fabricators for industrial metalworking. Let's have a look at each type to see how they are used by fabricators.
1. Vertical Metal Cutting Bandsaw
The vertical metal cutting bandsaw is the original design for bandsaws, from when they were originally used to cut wood. Vertical bandsaws cut from the top down and are very easy to use, both in terms of operation and for ease of positioning and handling stock for cutting.
Vertical bandsaws are very easy for your technicians and operators to use and service. They can be used to make intricate cuts in thinner materials when fitted with the appropriate blade. They are not as popular as horizontal metal cutting bandsaws for production line machining due to the requirement to feed the stock into the bandsaw as it cuts.
2. Horizontal Metal Cutting Bandsaw
The horizontal metal cutting bandsaw is the most common type used for general purpose cutting. Horizontal metal cutting bandsaws are hinged at one end to cut across the stock from the top downwards in the same direction as a handsaw. This 'scissor action' uses gravity, hydraulics or operator pressure to perform rapid cuts through a wide range of materials.
When fitted with a rotating base or vice, the saw blade can be set to cut through the workpiece at multiple angles. Horizontal bandsaws are extremely versatile, and can be automated with hydraulics to reduce operator fatigue. In small to medium size workshops, most fabricators depend on horizontal metal cutting bandsaws for reliable, flexible and precise cutting.
3. Dual Column Metal Cutting Bandsaw
A dual column metal cutting bandsaw is mounted on two separate columns, which guide the saw blade precisely through the cut. Horizontal dual column saws are the most common type. Dual column saws offer high stability for precision cuts but are significantly more expensive than scissor-action metal cutting bandsaws.
Cutting speed with dual column saws tends to be slower than with scissor action saws, and in practice a high quality horizontal metal cutting bandsaw can cut as accurately and precisely as most dual column saws, and much more economically. For this reason most fabricators use horizontal metal cutting bandsaws for the majority of their cutting requirements.
What has the highest impact on metal cutting bandsaw productivity for fabricators?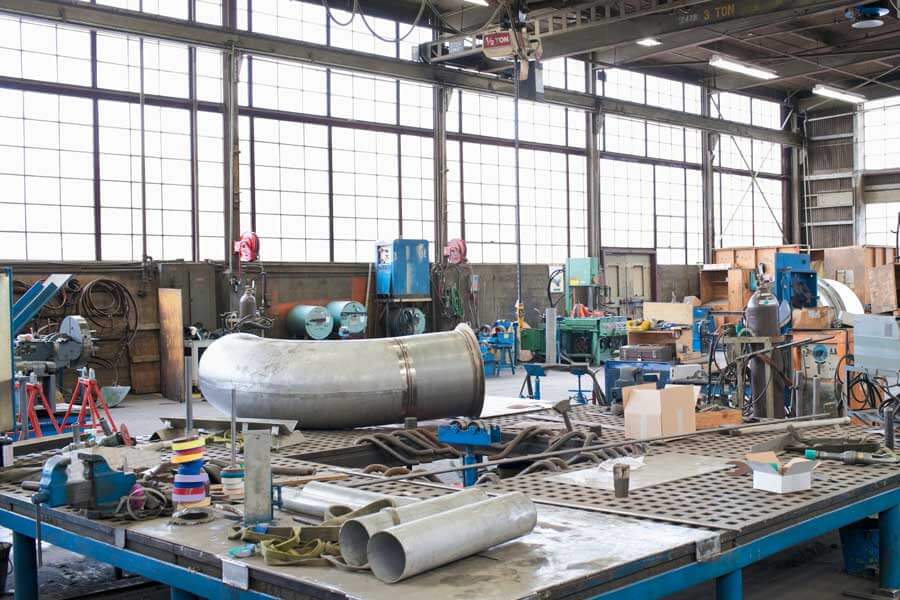 A 2013 survey of metal cutting productivity found that the biggest problem for fabricators was machine downtime, followed by operator errors, blade failure, and cutting speed. Machine downtime and blade failure can be addressed by proper maintenance schedules, and operator errors call for better training.
---
What are the four most common problems experienced by fabricators?
Machine downtime
Operator errors
Blade failure
Slow cutting speed
---
Build quality and design features of metal cutting bandsaws have a significant impact on machine and blade failure as well as cutting speed. Choosing a high quality, well designed metal cutting bandsaw makes a big difference to overall productivity, and may generate savings that make it worth investing in a machine with more features and flexibility.
Metal cutting bandsaw quality management
We carry out extensive quality checks and work to Toyota Production System principles of cause analysis and mistake-proofing to ensure timely delivery to our customers. Our continuous quality improvement processes reduce defects, increase reliability and ensure our customers are very satisfied with our products.
Rong Fu metal cutting bandsaws for fabricators
We are a metal cutting bandsaw manufacturer, supplying manual and semi-automatic metal cutting bandsaws. Our range of metal cutting bandsaws are designed to meet the needs of fabricators ranging from small workshops to industrial metal machining companies.
Rong Fu manual horizontal metal cutting bandsaws have either gravity feed or pull-down operation. Most of our machines have swivel head options for miter cuts. A pull-down machine is an excellent choice for rapid cuts, but gravity feed metal cutting bandsaws are the best option for slower cutting.
Semi-Automatic horizontal metal cutting bandsaws reduce operator fatigue by enabling the operator to return the saw bow to the raised position with powered assistance to prepare for each cutting cycle. This is a common feature on larger machines because the bow is heavy and difficult to lift manually to return to the raised position after each cut.
Our 2023 metal cutting bandsaws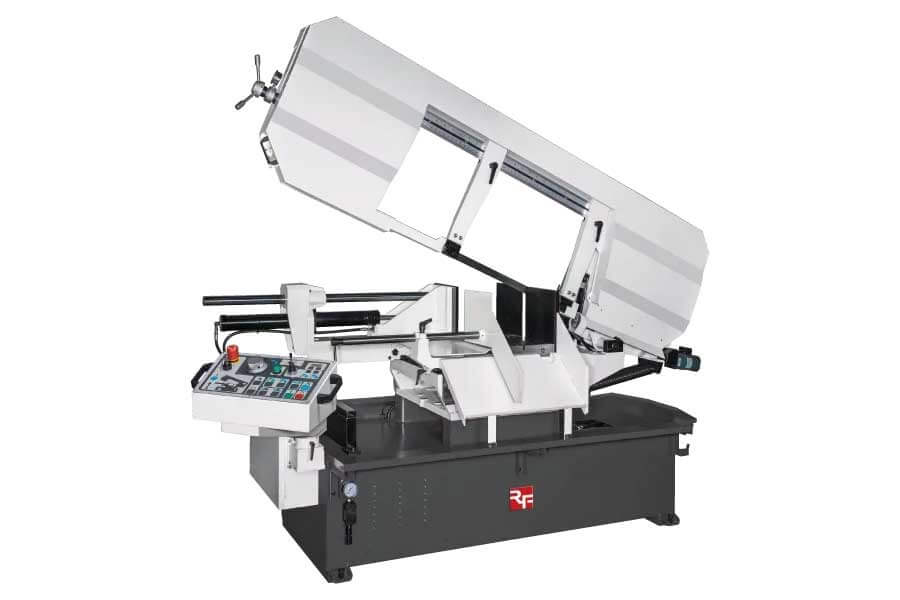 The Rong Fu RF500 metal cutting bandsaw is an example of a heavy duty workshop bandsaw with dual swivel versatility, which makes it perfectly suited as a primary metal cutting tool for any fabricator. This is the largest metal cutting bandsaw in our 9"-20" capacity range of saws.
---
12 Features of the Rong Fu RF500 metal cutting bandsaw
Dual swivel cutting angle from 0º- 60º (in 5º steps)
Efficient gear drive with variable step pulley for rapid speed changes
Heavy duty stand with swivel control box for easy operation
Suitable for bundle cutting of large tubes & pipes
Clear, bright LED readout for speed setting
Electric safety shut-off system & alarm.
Oversize hydraulic cylinder & buffer spring for increased cutting stability
Easy access chip tray for rapid cleaning
Cleaning hose & nozzle for easy chip flushing
Comes with bi-metal blade, chip brush, & length stop set
Self-propelled blade brush extends blade life
Hydraulic vise system for secure clamping of variable size workpieces (optional)
---
We manufacture metal cutting bandsaws with 4"-8" capacity as well as larger workshop and light industrial models like the RF500 featured here. Our smaller metal cutting bandsaws even include portable machines, and whatever your requirement we can guarantee we will have a metal cutting bandsaw to suit your fabrication needs.
Contact us and find out how Rong Fu metal cutting bandsaws can increase productivity and reduce costly downtime at your fabrication workshop. Enjoy our high quality control standards and be prepared to be surprised by the comprehensive range of features we offer as standard across our metal cutting bandsaw range.